Automotive Tools and
Equipment Shop in Hilo, HI
Every professional and do-it-yourself mechanic knows that it's impossible to repair your vehicle without the right automotive tools and equipment. Automotive Supply Center is your one-stop shop for the best car tools in Hilo. We carry a huge selection of hand tools, welding equipment, engine stands, digital multimeters, car jacks and jack stands, and much more. We also have tool chests and cabinets to keep your automotive tools organized.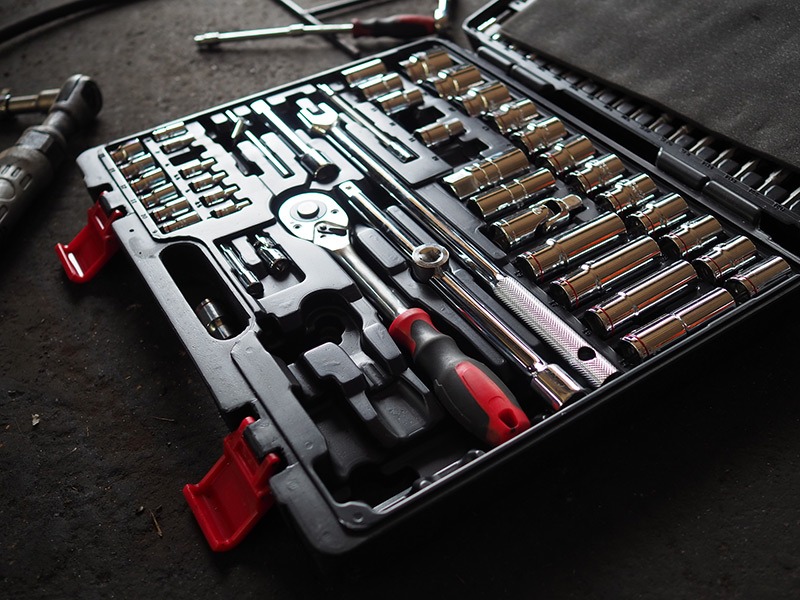 Ratchet and Socket Set
A ratchet and socket set might be the tool that you will use the most when working on your car. They are used to remove or tighten bolts and lug nuts on your car. ASC carries 3/8-inch, 1/4-inch, and even 1/2-inch drivers and sockets.
Torque Wrench
Setting nuts to the proper torque is often overlooked by beginner mechanics. Over torquing a nut can cause the bolt to shear off and also makes it much more difficult to remove. Use a clicker-type torque wrench to ensure that you are tightening your nuts to the proper specifications. Simply turn the bottom handle of your torque wrench and align the top of it to the specified torque which is imprinted on the tool. Tighten until you hear two clicks and then you're done.
Car Jacks and Jack Stands
Although not every car job will require you to lift the car up, there are many cases where doing so will speed up the process. It's important to note that hydraulic car jacks only lift your car and are not meant to secure the car up. For that purpose, make sure to always use jack stands. Consider getting at least a couple of them and make sure that they can withstand at least two to three tons.
Pliers and Wire Cutters
Many auto repairs will require you to use some kind of pliers. From brake jobs to removing small electric connectors, pliers are a must. There are also several electrical jobs you can complete with pliers, such as installing a stereo unit or wiring new headlights.
Screwdrivers
Screwdrivers are as useful in your garage, but you may need to expand what you already have. Get a complete set that includes a larger flathead which can double as a small prying tool as well as small screwdrivers delicate enough for electronic work.
Multimeter
A multimeter is necessary for electrical diagnosis and troubleshooting. This tool can measure voltage, resistance, and amperage in order to check your batteries and fuses.
Tool Bags and Carts
As your collection of tools starts to increase, you may notice some clutter in your garage. Automotive Supply Center carries a variety tool bags and carts to protect and organize your tools. Our selection of tool bags and carts make everything easier to find when you need it. In addition, your tools will remain cleaner since it won't be exposed to dust and dirt.
Get the Proper Automotive Tools and Supplies
Many car repairs seem intimidating, especially if you've never done that type of repair before. However, having the right tools is a good starting point for the do-it-yourselfer. If you're unfamiliar with the best tools to use for any kind of auto repair, consult the team at Automotive Supply center.  We can recommend the right tools for the job, so you can properly repair your vehicle.